BF3255 FlexiWrap
Back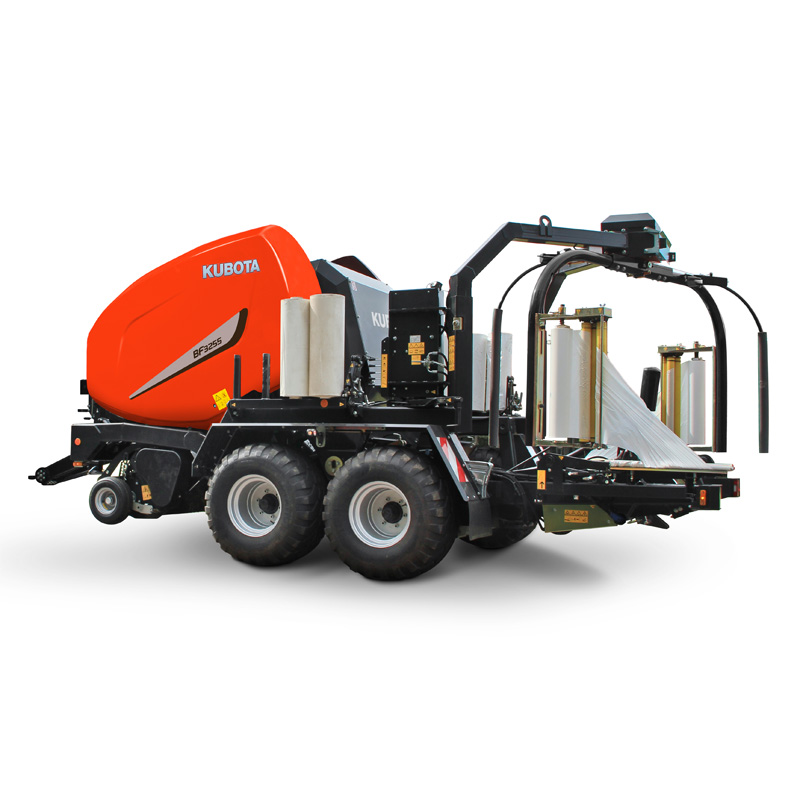 Integrated Baler Wrapper Combination.
The Kubota BF3255 FlexiWrap offers you the best solution for baling and wrapping in one go. High speed wrapping ensures that wrapping will finish before the next bale is ready – fast and efficient integrated baling. It is the ideal solution for a one-man operation. It incorporate the BF3255 with the twin satellite wrapper, all firmly mounted onto a strong and durable chassis with tandem axles.
The wrapping table with 4 endless beltsand rollers carries and rotates the baleevenly during wrapping with no risk of filmdamage. The twin pre-stretchers ensurehigh speed wrapping, so the wrapping process will finish on time before thenew bale is ready.
The Advantages:
Integrated solution for baling and wrapping in one go.
Fixed chamber full roller bale concept with a bale diameter of 1.25×1.20m.
Wrapping table is transferred to the tailgate of the baler, so the bale is dropped directly onto the table.
High speed wrapping with two pre-stretchers – wrapping process will always finish before the next bale is ready.
Low table height for gentle unloading of bales. Optional bale on end kit available.
The extra film rolls are lowered hydraulically for easy change
Download technical document
Download technical document
Technical specifications
| | | | | |
| --- | --- | --- | --- | --- |
|  Model | Bale Size (m) | Bale Chamber | Pick-Up (m)        | Cutting Device |
| BF3255 FlexiWrap SC-14 | 1.20×1.25 | 17 rollers | 2.20m | SuperCut-14 |
| BF3255 FlexiWrap SC-25 | 1.20×1.25 | 17 rollers | 2.20m | SuperCut-25 |